10 Best Modified Mahindra Thar – Mahindra Thar was introduced by Mahindra. It is the car that is most loved by people who won reality in there this is one of the strongest cars available out there and shows Max the potential, and its strength by its look itself.
The Mahindra THAR is a popular off-road vehicle produced by the Indian automaker Mahindra & Mahindra. It is available in both two- and four-door configurations, and can be equipped with either a petrol or diesel engine. The THAR is known for its rugged design and strong performance in off-road conditions, making it a popular choice for outdoor enthusiasts and those who enjoy off-road driving.
So, today we have a list for you of the 10 best amazing Mahindra Thar Modifications.
1. Modified Mahindra Thar Force Style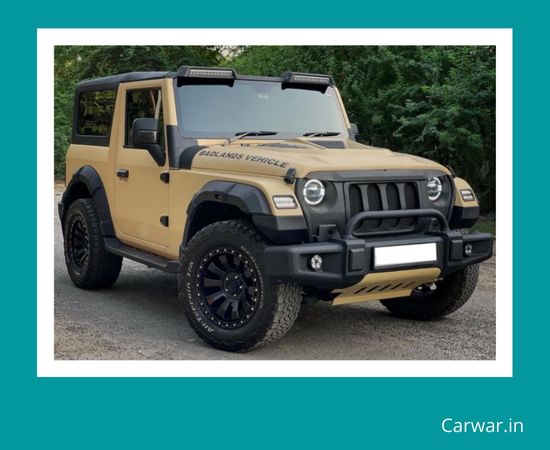 This Thar modification gave it a very unique and dashing look.
Here, the modification coasted approx. Rs 14 lakh.
You will find this Mahindra Thar modification to be relatively similar to the Mercedes G Wagon 6×6. The only which this Mahindra modification has 6 wheels and is quite similar to German SUVs which are of high capacity and diversity.
The other modifications are dual – cab body and a road spec bumper with an integrated bulbar, LED DRLs in the front, and LED tail lamps in the rare, the tire type is 37- an inch Maxus Trapdoor used for enhancing the off-roading experience.
There are some modifications done inside the Thar as well, a new dashboard, roof-mounted switches, barber windows, and a music system to ensure you the best comfort in the cabin.
2. Modified Mahindra Thar Classic Style
This Thar maintains most of the conventional looks of Thar design, but have made only a few changes that make it look smoother and makes it attractive personally for me.
The chargers are around Rs 5lakh.
The changes made are polished bumper, LED light, projector headlights and fog lights, flat roof, renewed wheel arches and spare wheel mounted.
3. Modified Mahindra Thar off Roading Style
This Thar modification is quite similar to the Thar modification of the first one on our list it has, 33 inches of native offset wheels enhancing the offloading experience style door, an updated version of the front grill, projector headlamps with LED DRLs and off-road bound bumpers which get it a look of a wider version.
Has, a 2.5L CRDe engine which provides a max power of 105hp against a peak torque of 247nm and is mated to a 5- speed MT gearbox.
4. Modified Mahindra Thar Real
The star modification has itself a quite angry look comma the modifications made are comma Thar sport a newly designed grill comma LED rare tail lights fiberglass hard top larger tires and wire will arches.
It has changed in the interior as well as comma novel bucket front seats stock rear seats leather-covered door panels and diamond group.
 Even the driving wheel and the dashboard also have been upgraded with similar shades of color to become quite harmonious with the overall look of the vehicle All the above changes made in this modification give the Thar a very aggressive look that this look has been inspired by the TV cartoon known as Angry Bird. And allow the Thar to seek excessive attention on the road.
5. Modified Mahindra Thar Old School
This Thar modification has a very impressive road presence with a metallic blue color on the outside,  a bonnet has 'flame' designs on the up, front fenders, and doors.
This Thar has modified itself with massive off-roading tires to itself, which gives it a very muscular look. It has a roll cage and a plastic shocker in the front, a high position of fenders on the sides, and a bumper in the rear.
6. Modified Mahindra Thar Hunter
Modification of the star is quite unique as it has got itself the look of a jeep by transforming some of the external features these are, metallic meet finish in the grey color roof carrier with work lights all around and farm mounted on the career the front headlights which have been tweet to give it a sharper look.
The larger wheels pander and max big horn steal tiles and it visually treats a hard metal top which gives it more look.
The modification has been done on the internal side as well where it has got itself more comfortable custom seats with armrests individually, foldable jump seats at the rear, and more lights. It can also have a sunroof.
All the changes which are being made in the star are on the external bases they are not made on the surface of the engine or so.
7. Modified Mahindra Thar Rough Style
The modification that has been got to this Thar is very aesthetically pleasing as the color which has been painted on the star is pure white color every external side of this car has been painted with pure white even the rectangular ORVMs have been fully dressed into the white color.
The sum of Other external changes made is strong grills which have been replaced with sneakers the 21 inches larger unit of spider alloy wheels which are been bread around a wider cross-section and low-profit tiles full stop another impressive addition is the automatic slide step which takes its position automatically when one of the doors is open and neatly get tugged in when the door is closed, the most attractive dual sunroof.
International changes made are it has got itself all-new red leather up lost tree looks which make it quite premium.
Pink-colored ambient lighting could be seen on the dashboard while the stock touchscreen infotainment unit has been placed in the center Dash full stop apart from this center console has been finished in silky silver giving the cabin nice contrast.
The front part of the sunroof is a regular electric unit while at the rear there is an entry-level pop-up sunroof unit. These are the changes made in this and The White premium look really attractive Thar.
8. Modified Mahindra Thar Classic Hunter
This Thar has been modified into a Candy Red color, which gives it a very attractive look because red naturally attracts the attention of people. The front features are glossy black material on the bumpers and LED headlamps.
The interior are customized sunroof with stars on it that makes it look cool at night as well, push the button to start and stop the car.
It is so unique that you would hardly see any such Thar on the road.
9. Modified Mahindra Thar Beast Style
Bistar has got itself a Pearl yellow shade that completely changes the look of the SUV. Looking at this feels like an imaginary car in front of you because there are very rare cars that have yellow Paint on them so it gives eyes a very aesthetic and coming look view.
Other than the paint it has also got it has been replaced with an aftermarket unit food stop the headlines have been replaced with a mate grey or black finish for the rugged look. The stock bumper on the star has been replaced with an aftermarket of road bumper.
A metals kit plate has also been installed and two is of yellow color LED fog lamps are integrated with new bumpers and full stop the Thar has got all-new black alloy wheels and Chunky looking off-road tires.
It has also got ORVMs is also got inserted black carbon fiber finished on them. The claying On the Wheel Archives are also finished in mate grey or black finish. It is probably a court of Linux that is giving these parts this finish.
10. Modified Mahindra Thar Jeep Style
This Thar has been modified with a custom paint job of metallic blue color which has been given a quite an appropriate finish that makes it look quite unique. At the front section, the aftermarket headlights come with a project setup and the rare tail lights borrow their design from the Jeep Wrangler. And also gets led to itself.
 Also, the soft top is replaced by custom heart talk with a little percentage of Windows 10. This Thar has been modified with custom fingers which give the bulging wheel arches in the edge. It it's on 15 inches 10.5 G Steel rims and gets wrapped in 33 inches maxis 764 mud train tires.
This also provides it with really good ground clearance to the star due to improved suspension which has been upgraded.
 It also receives Arc leaf Springs, which is quite unique to have. Also gets itself a custom Steel front and rear bumper, side door handles, and larger BMS. And also fog lights to themselves.
FAQs
Q1. Cost of Mahindra Thar Custom Modification?
The cost of modifying a Mahindra THAR will depend on the specific modifications you want to make and the quality of the parts and labor used. Some modifications, such as installing larger tires or adding a lift kit, may be relatively inexpensive, while more extensive modifications such as upgrading the engine or adding a roll cage could be significantly more expensive. In general, it's a good idea to research the cost of the specific modifications you are considering and budget accordingly.
It's also worth noting that making modifications to a vehicle can potentially void the manufacturer's warranty and may also affect the vehicle's performance, reliability, and safety. It is always a good idea to carefully consider the potential consequences of any modifications before making any changes to your vehicle. If you are considering making significant modifications to your Mahindra THAR, it may be a good idea to consult with a mechanic or other automotive professional to get an idea of the potential costs and potential impacts on the vehicle.
Q2. Is it legal to modify Thar?
Ans.
In general, it is legal to modify a Mahindra THAR or any other vehicle as long as the modifications comply with relevant laws and regulations. However, there may be some specific modifications that are not legal in certain areas, or that may require special permission or certification.
In most countries, there are laws and regulations that govern the safety and performance of vehicles, and any modifications made to a vehicle must comply with these regulations in order to be legal. This can include requirements for things like lighting, brakes, exhaust systems, and other safety-related components. In addition, there may be specific regulations that apply to certain types of vehicles, such as off-road vehicles or vehicles that are used for racing.
It's important to note that making modifications to a vehicle can potentially void the manufacturer's warranty and may also affect the vehicle's performance, reliability, and safety. It is always a good idea to carefully consider the potential consequences of any modifications before making any changes to your vehicle and to make sure that any modifications you make are in compliance with relevant laws and regulations. If you are unsure about the legality of a particular modification, it may be a good idea to consult with a mechanic or other automotive professional or to check with your local authorities.
Q3. Can Thar be modified with a sunroof?
Ans. Yes, you get your Thar modified with a sunroof.
Q4. How much does Thar bumpers modification cost?
Ans. It will cost you around 26,000rs.
 Q5. How much does Paint cost?
Ans. It will cost you around 22955- 35553. For the full-body dent paint.
These were the best 10 Thar modifications hope you would like them and enjoy our work. Keep showering your love on us.